Coronatae
From The Scyphozoan
Jump to navigation
Jump to search
Order Coronatae Vanhöffen 1892
Characteristics of the Order (from Kramp 1961)

Scyphomedusae with the umbrella margin cleft into lappets; with a single mouth opening provided with simple lips; with sense organs (rhopalia) and solid marginal tentacles arising from clefts between the lappets; with a circular, coronal furrow in the exumbrella, and peripheral to this a zone of gelatinous thickenings (pedalia) divided by radiating clefts alternating in position with the tentacles and rhopalia.

Coronatae Species


Based largely on Kramp (1961) and Mianzan & Cornelius (1999) Collections: M = morphology; D = DNA; Type = *

Key:
Family (6)

Atollidae
===
Bigelow 1913
Atorellidae

Vanhöffen 1902

Linuchidae
Haeckel 1879
Nausithoidae
Bigelow 1913
Nausithoe

albatrossi

atlantica
aurea (pictured)

challengeri

clausi (Vanhoffen 1892) 
eumedusoides (pictured)
globifera

hagenbecki
limpida (Hartlaub 1909)

marginata (pictured, Kolliker 1853) 

picta (Agassiz & Mayer 1902)  
punctata (Kolliker 1853; Palau, D, M)*   

racemosa (Komai 1936; New Guinea; D, M; Palau; D, M)

rubra
thieli
Palephyra


antiqua
indica
pelagica (Haeckel 1880) 
Thecoscyphus

zibrowii (pictured, Werner 1984)*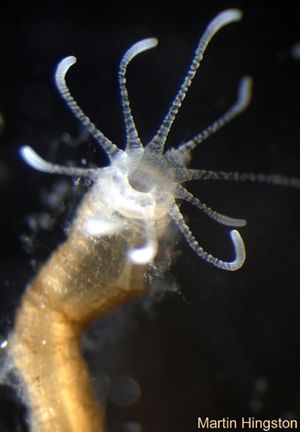 Paraphyllinidae
Maas 1903
Paraphyllina (Maas 1903) 

intermedia (Maas 1903)*
ransoni (Russell 1956) 
rubra (Neppi 1915) 
Periphyllidae
Haeckel 1880
Nauphantopsis

diomedeae
Pericolpa
campana
quadrigata (Haeckel 1880)*
tetrealina (Haeckel 1880) 

Periphylla (Haeckel 1880) 
Periphyllopsis

braueri
galatheae (Kramp 1959)
*Compiled by M.N. Dawson, G. Jarms, and A. C. Morandini.